Learn about orthodontics Headgear Braces Alternatives used by dentists.
Your oral health is incomplete if you have problems in alignment of teeth and there are chances that your teeth will fall down quickly and have more cavities if you do not make some aesthetic compromises.
Dentists and medical researchers recommend headgear braces as one of the best solution for alignment of teeth. They are of vital importance and help you in having well aligned and straight teeth. Some people think that it is not necessary to have well aligned teeth but in future your teeth may face some severe illness.
For some people, these are very crucial medical equipment that will help them from developing more severe situations. There must be your friend, family member or neighbor who have a tooth that is not in the same line with the others, being a bit in front or maybe a bit behind.
Sometimes, teeth become so wide and gums start swelling, cavities become painful and teeth starts falling. In these serious conditions patients' will have to wear headgear braces no matter how weird they look and affect your personality but you have to make serious aesthetic compromises to make your teeth in proper U-shaped non-cavity form. Let me get into the details of this matter.
No doubt using Headgear braces is a bit difficult in front of your friends and relatives. It looks weird but there is a very important reason of wearing it. Mostly people who have problems with molar and jaw bite need to wear it.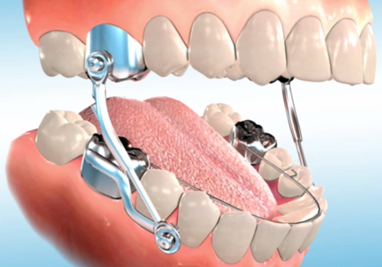 Below are the few dental Headgear Braces Alternatives that can be used:
Headgear Braces Alternative
Headgear is mostly used in growing age patients such as kids and teens because many kids in the age of 12 face the growth of upper jaws so to allowing the lower jaw to catch up Headgear braces are important.
Of course, Headgear braces are not the only way of straightening of your teeth and solving your overbite issues. There is always an option B. As the technology has increased lots of other products and techniques are invented. Dentists do not recommend Headgear braces especially if you have a problem with your spine or have suffered a neck injury or suffered from any oral surgery in recent periods.
So, there are modern appliances available, which can be used in these circumstances. Most popular alternative appliances are :
Herbst Appliance as Headgear Braces Alternatives

The Carriere Distalizer as Headgear Braces Alternatives is excellent in adjusting large overbites in children and teens specially because of having small lower jaws in growing patients. The Herbst appliance is best tools to enhance the growth of lower jaw in a forward direction. It also helps in adjustment of upper jaw in backward direction by applying more and more pressure.

Carriere Distalizer as Headgear Braces Alternatives

The Carriere Distalizer as Headgear Braces Alternatives is another comfortable and less painful device. It is an orthodontic appliance that is used for the treatment of misaligned bite without removing any permanent teeth so it is mostly prescribed by Doctors as alternative of Headgear braces. It has similar effect to headgear, which is typically worn to correct an overbite, also used for adjusting upper teeth spaces and pulling downward teeth in backward position.